What do you really know about Juneteenth??
Knowing about Juneteenth is more important now than ever because many people across the country are equating labor within the prison industrial complex to "modern day slavery".  In 1864, the 13th Amendment was added to the U.S. Constitution and allows slavery to be used as punishment. So, peonage labor, commonly referred to as "the chain gang", was the primary labor pool used by the railroads, coal mines and steel industry (most notably Bethlehem Steel and the Sloss Furnaces) after reconstruction and was heavily used until the 1940s.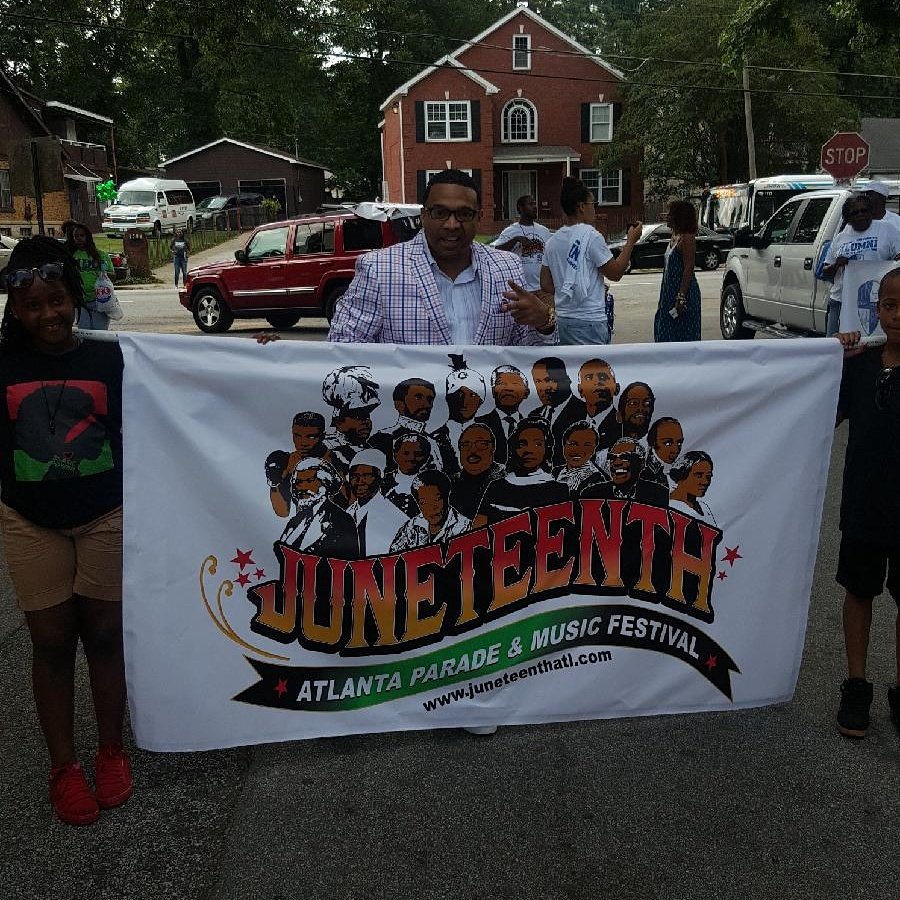 WAOK 1380 am radio talk show host, Rashad Richey, Celebrates Juneteenth at one of Atlanta's many celebrations.
Since many people seem to know very little about this important day in 1863 in history, below is a synopsis of key facts about Juneteenth from today's USA Today.
Source:  *USA Today Network USA TODAY Published 9:23 a.m. ET June 19, 2017.
Juneteenth is observed on June 19 to commemorate the end of slavery in the United States.
It is also known as Freedom Day or Emancipation Day.
Here's everything you need to know about Juneteenth: 
What is Juneteenth? 
On June 19, 1865, Major Gen. Gordon Granger came to Galveston, Texas, to inform a reluctant community that President Abraham Lincoln two years earlier had freed the slaves and to press locals to comply with his directive.
Why did it take so long for the news to get to Texas? 
There is no one reason why there was a two and a half year delay in letting Texas know about the abolition of slavery in the United States, according to Juneteenth.com. The historical site said some accounts place the delay on a messenger who was murdered on his way to Texas with the news, while others say the news was deliberately withheld.
Despite the delay, slavery did not end in Texas overnight, according to an article by Henry Louis Gates, Jr. originally posted on The Root. Gates said after New Orleans fell, many slavers traveled to Texas with their slaves to escape regulations enforced by the Union Army in other states.
The slave owners were placed with the responsibility of letting their slaves know about the news, and some delayed relaying the information until after the harvest, Gates said.
Where does the name "Juneteenth" come from?
Juneteenth is a combination of "June" and "nineteenth," in honor of the day that Granger announced the abolition of slavery in Texas.*
---
---
For more information to see the similarities between Blacks being enslaved for 400 years and current or modern day slavery, good sources are:  tour the Sloss Furnaces in Birmingham, Alabama or visit www.slossfurnaces.com and read the book, "Slavery by Another Name" or visit www.slaverybyanothername.com.  Or, check your local PBS television listings to see when the 90 minute documentary will air again.
Be sure to share this posting in your social media circles and make it a priority to attend a celebration each year with your family and friends.